R.I.P. Nam June: "Zen for Head"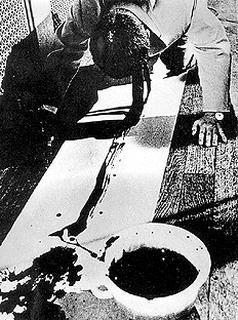 "Zen for Head", Paik's Interpretation of LaMonte Young's composition, "1960 #10",
performed at Städtisches Museum Wiesbaden, August 1962
Word came yesterday that Nam June Paik, the Fluxus artist and "father of video art", died on Sunday at his winter home in Miami Beach. He had a stroke in 1996 which left him partially paralyzed and also suffered from longterm diabetes. But he also had an irrepressible sense of fun and high spirits which often were reflected in his video work.
Paik was an artist with a special place in the lives of many Cincinnatians. I first remember hearing of his work in 1968 when my future high school art teacher (and later director of The Contemporary Arts Center), Jack Boulton, was still a student at the University of Cincinnati. Jack was also the director/organizer of U.C.'s Spring Arts Festival which brought to town the Charles Lloyd Quartet, along with two Fluxus artists: Hermann Nitzche, who created controversy by butchering a cow as performance art, and Nam June, who created something called "A Terminal Experience"--a video and light show extravaganza at Union Terminal, Cincinnati's Art Deco era train station. Later Nam June worked closely with the Carl Solway Gallery in fabricating and installing large scale sculptures all around the world. So there are fond memories of him here.
But as I mentioned, before Nam June began exploring video art, he was a Fluxus artist. And this revolutionary anti-art, performance movement was one in which Nam June was an enthusiastic player:
In reference to Paik's performance during the Originale happenings, which Karl Heinz Stockhausen initiated in Cologne in 1961, the composer wrote: "Paik came to the stage in silence and shocked most of the audience by his actions, which were as quick as lightening. For example, he threw beans up to the ceiling and into the audience. He then hid his face behind a roll of paper, which he unravelled infinitely slowly in breathless silence. Then, sobbing softly, he pressed the paper every now and then against his eyes until it became wet with tears. He screamed as he suddenly threw the roll of paper into the audience, and at the same moment he switched on two tape recorders blaring a sound montage typical for him consisting of women's screams, radio news, children's noise, fragments of classical music and electronic sounds…" -- db artmag
The photographs shown above depict Paik's piece for the
1962 Fluxus International Festival for Very New Music
in Wiesbaden, Germany, where he performed "Zen for Head", which involved dipping his head, hair and hands in a mixture of ink and tomato juice and dragging them over a scroll-like sheet of paper to create a dark, jagged streak. The second photograph depicts the final artwork created from his performance.
What an original mind. He shall be missed.