Mary Goes to Paris, Days 5 & 6
"After a day of walking around the 6th arrondissement looking up literary haunts (Oscar Wilde, James Joyce, Hemingway, F. Scott Fitzgerald, Henry Miller, Richard Wright, etc.) I went to
The Village Voice
."
The Village Voice, 6, rue Princesse, 6me arr.; Metro: St. Germain des Près or Mabillon
"I wanted to check out if this was indeed the bookstore that was the basis for the poetry reading scene in
Le Divorce.
Indeed it is, per Odile, the owner. She explained that although the movie was not shot in her her book shop, the set was created to look just like her shop, which DOES because I recognized it the moment I walked in the door.
David Sedaris in his favorite Paris store.
"Anyway, it JUST SO HAPPENS that
David Sedaris
(who wrote
Me Talk Pretty One Day
) was giving a reading from his newest book! So cool. I was just telling Terry last week before I left for Paris about a David Sedaris story I read in a compilation book about Paris. It concerns David living in Paris, not caring about the sites but loving Paris cinema. Actually, he loves old American movies shown in Paris movie theatres. In the story, he creates his day based upon different movies that are shown in the city. Where someone else might create an itinerary going from site to site, he cuts his time close by going from one movie in one section of the city & then rushing to another section to catch another film! He says when people visit him that he doesn't show them the sites, he takes them to a movie.
"I met him tonight. Bought his book, he signed it. And then he asked me if I've seen any films. Not yet, I replied. He told me I need to run, RUN to the nearest cinema! Anywho, his readings are every bit as hilarious as his writings."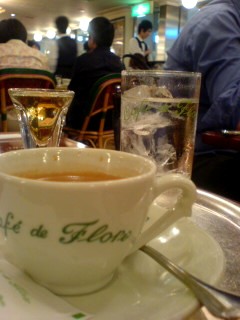 "This is my 4th trip here & I'm just now getting to the famous cafés. Today I had
soupe a l'oignon gratinée
&
chocolat chaud
from
Café de Flore
. Superb onion soup and great hot chocolate (although not as great as Angélina)."
Café de Flore, 172, Blvd St Germain, 6me arr.; Métro : St-Germain-des-Prés
Buy
Dress Your Family in Corduroy and Denim
by David Sedaris from amazon.com.